Arsenal FC faces regulatory heat in UK over 'misleading' fan token promos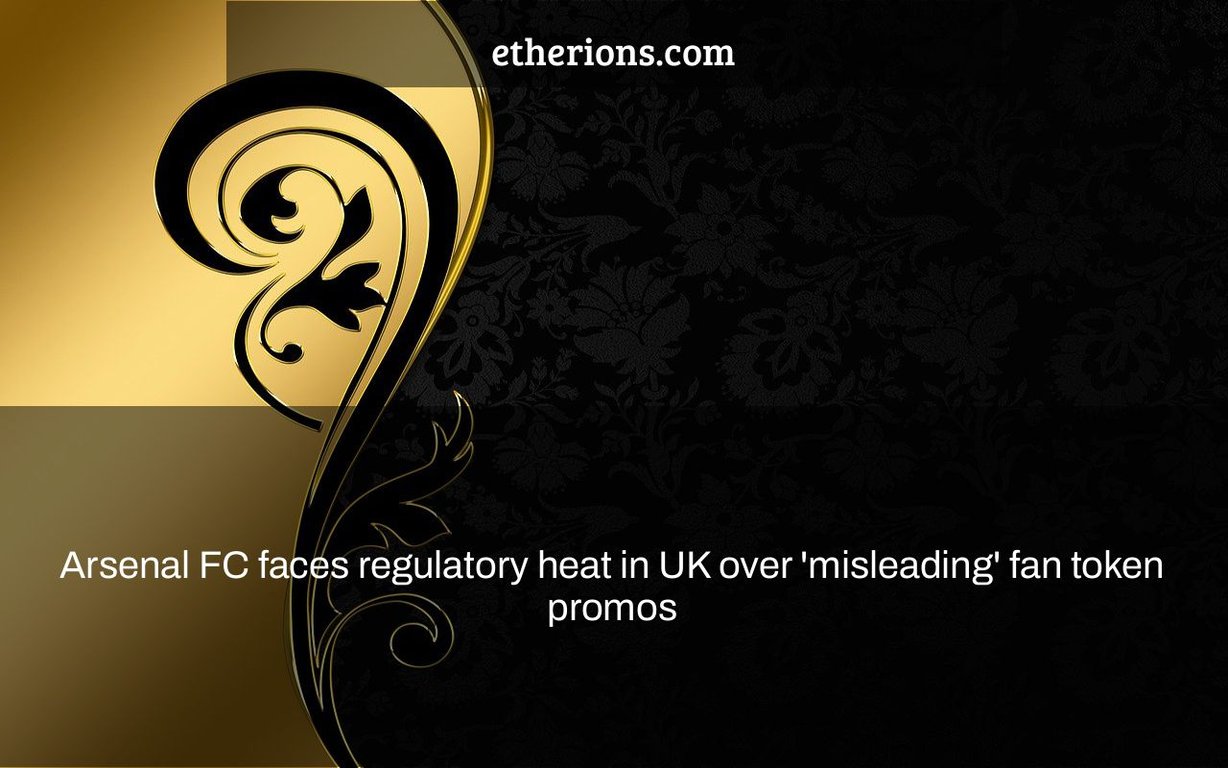 On July 26, the UK's Competition and Markets Authority (CMA) fined Arsenal FC 150 000 pounds for "misleading" fans by offering popular soccer tokens in exchange for real money. The CMA says that these token offers were made without prior warning to consumers of their existence before they entered into contracts with exchanges or other third parties.-
The Advertising Standards Authority (ASA) in the United Kingdom has banned two advertisements advertising AFC, the fan token established by the renowned football club Arsenal, calling them "irresponsible" and "misleading."
"We determined the advertising were irresponsible and broke the Code because they trivialized cryptoasset investment and took advantage of consumers' inexperience or naivety by failing to make clear that CGT [capital gains tax] might be payable on earnings from investing," the ASA noted.
We've released 25 decisions today, including one that prohibits Arsenal from exploiting customers' lack of knowledge about cryptoassets in their postings. @BBCNews https://t.co/UohrSDudg3
22 December 2021, ASA (@ASA UK)
The adverts in issue were put on Arsenal's Facebook page on August 12 and on the club's website on August 6, according to the verdict. "$AFC is now live $CHZ," said the first, and readers were encouraged to "download the Socios app to acquire your token and vote."
According to the ASA, the second ad was headlined "$AFC Fan Token: Everything you Need to Know" and "contained material clarifying what the Arsenal Fan Token was and the advantages that it gave."
This is not a promotion to be taken lightly.
The regulator cited three major sources of concern in Arsenal's advertisements in its decision. To begin with, the ASA found them "irresponsible" since they "tolerated investment in cryptoassets by taking advantage of customers' inexperience or naivety."
The advertisements also "failed to illustrate the risk of the investment," according to the ASA, and one of them "was misleading because it did not make clear the 'token' was a cryptoasset, which could only be obtained by opening an account and exchanging with another cryptocurrency that had to be purchased."
"The advertising must not reappear in the form that was reported."
According to The Guardian, Arsenal wants to initiate an independent review of the regulator's decision "to gain further clarification on the ASA's present stance."
"We take our responsibility to our fans in terms of marketing extremely seriously. The club's spokeswoman told the outlet that "we carefully analyzed the messaging to fans on our promotions and gave information regarding financial risks."
As previously reported, the ASA banned seven additional crypto-related advertising last week, including those from Etoro, Exmo, Coinburp, and Luno, for failing to adequately emphasize the dangers associated with digital assets.
Newsletter
The most relevant daily news in the worlds of crypto, DeFi, NFTs, and more are summarized here.
Gain a competitive advantage in the cryptoasset market.
As a premium Edge member, you'll get additional crypto insights and context in every story.
Analyses of the whole chain
Snapshots of prices
a little more context
For just $19 a month, you can become a member right now. Examine all of the advantages.
Watch This Video-