XRP To Reach $1.40, Given the Token Surpasses Resistance at $1.33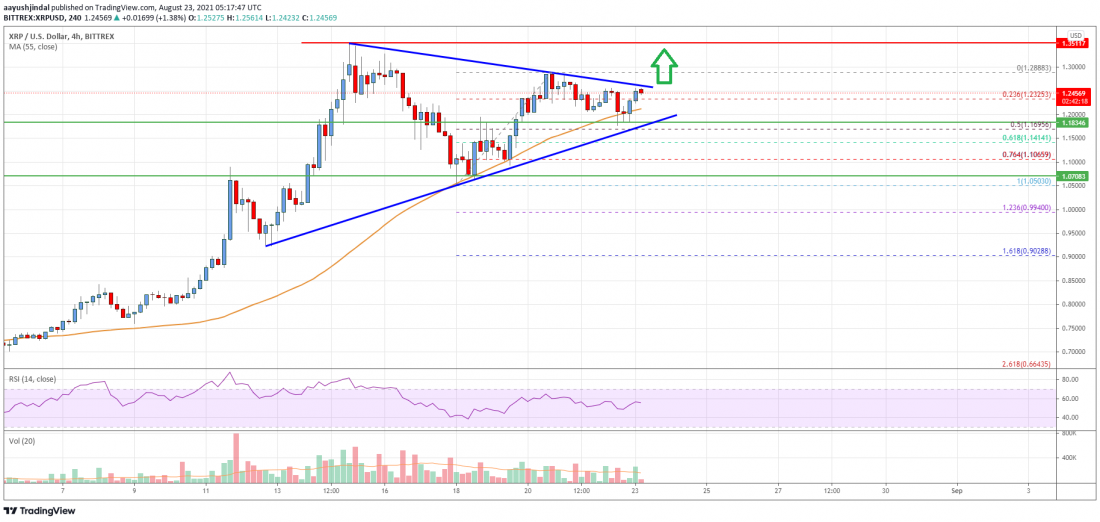 The crypto market is tough on newcomers, but it's rewarding for those who climb to the top. XRP, a token that represents a digital asset transfer network and ledger known as RippleNet, has been inching closer towards its all-time high of $1.40 since yesterday afternoon when news broke that China banned initial coin offerings (ICOs).
Despite some genuine fears in the community about the recently enacted $1.3 trillion infrastructure bill, which has clauses that might significantly affect the market, most digital currencies are still trading in the green.
Overview of the Market
Bitcoin is now trading at $65,900, up 6.4 percent in the previous 24 hours. Since the 20th of October, when the BTC reached an all-time high of 66,930, the currency has regularly traded over the $60,000 price level. In the meanwhile, just once, on October 27, did the currency fall below the specified price. For over 24 hours, BTC was trading below $60,000 before resuming its upward trend. The Premier coin is now 1.47 percent behind its all-time high. It's no surprise that the BTC might easily exceed its current all-time high during the next 72 hours if its price behavior remains above $65,000.
The price of Bitcoin has had a favorable influence on altcoins, with the majority of them remaining in positive territory. After DOGE, Ripple's native cryptocurrency XRP is the second greatest gainer among the top ten.
Analysis of the XRP Price
XRP is presently trading at $1.26, up 6% over the past 24 hours. The token was recorded mere hours before the press, just a bit below a 30-day high of $1.30. On the technical charts of XRP, multiple favorable patterns can be seen. The fact that XRP is now trading above $1.20 and the 55 simple moving average seems to be the most important (4-hours).
Second, a crucial positive trend line seems to have been formed on the 4-hours chart, as the coin continues to trade above the $1.168 support level.
Furthermore, the coin has support around $1.25 and $1.20 on the downside, and resistance at $1.30 and $1.33 on the upside. If the XRP successfully passes the $1.33 barrier level, it is expected to reach $1.40.